Innovative Phlebological Center in Moscow
What is associated in patients with the name "MIFTS" - Medical Innovative Phlebological Center? First of all, with specialists of expert phlebology experts. With the latest diagnostic equipment and the ability to undergo a comprehensive examination. With the highest quality of treatment and rehabilitation, which can be obtained in one medical center. Of course, this is so!
That is why many patients prefer to contact MIFTS - Медицинский Phlebological Center in Moscow, and not to search for phlebologists who practice in private clinics or other government institutions.
Проведение инновационной лазерной процедуры
So, what is the Phlebological Center in Moscow and what are its advantages in comparison with other medical organizations?
Квалификация специалистов центра
How to choose your doctor when applying to an institution such as Phlebological center? For maximum patient comfort official site "MIFTS" provides full information about the leading specialists of the center in Moscow. Management attaches great importance to professional staff, so all specialists regularly attend seminars and participate in conferences in order to keep abreast of the latest advances in vascular surgery and phlebology.
Experience of specialists of the center
An important factor in choosing a doctor is his experience with phlebological patients. In our Moscow phlebological center work professionals with experience of at least 15 years. By signing up for a consultation with any of our doctors, you will receive an expert phlebologist who operates an endovascular surgeon and a certified ultrasound specialist in one person.
Основные цели, которые ставит перед собой Phlebological Center in Moscow, prices which is more than available, can be divided into several categories:
Diagnostic measures. Thanks to modern technical equipment, doctors have a unique opportunity to use innovative diagnostic methods to obtain maximum information about the state of the venous system of the lower limbs.
Laboratory research and diagnosis of concomitant diseases. Due to the rare opportunity to undergo a full examination within the walls of one center, patients receive the maximum level of service, and doctors have reliable information about their health status.
Treatment. Moscow Phlebological Center provides a full range of services for the most modern treatment of the pathology of the venous system, regardless of the severity of the disease and the age group of patients.
Guarantees. After the examination and treatment, many patients need a quality recovery period. The ideal solution will be the opportunity to consult with your specialist. Such an opportunity is provided by our phlebological center. Reviews пациентов свидетельствуют, что данная услуга помогает решить возникающие вопросы и добиться максимальной эффективности во время реабилитации.
The diagnostic methods used by the specialists of the center
Для того чтобы оценить качество и уровень обследования пациентов, необходимо упомянуть о новейших методах диагностики, применяемых специалистами. Флебологический центр в Москве, стоимость услуг which is available to virtually all segments of the population, is provided with the most modern diagnostic equipment, among which are:
Ультразвуковая допплерография, позволяющая получить информацию о прохождении венозной системы
Duplex ultrasound scanning of veins, as a result of which a phlebologist can assess the overall condition of the vascular system.
Color mapping allows you to assess the degree of damage to a specific area of ​​the vessel and determine the cause of the pathology.
Laboratory tests performed on the newest equipment will give a detailed picture of the blood, according to which an experienced specialist will be able to diagnose the condition of the hematopoietic system.
Современный Флебологический центр в Москве, отзывы about which grateful patients pass word by mouth, uses innovative methods of treatment to achieve the most effective result:
Sclerotherapy used to remove small varicose veins.
Laser treatment (ELVC) as a modern alternative to classical surgical intervention.
The technique of radiofrequency ablation, which allows for very precise manipulations on a small affected area.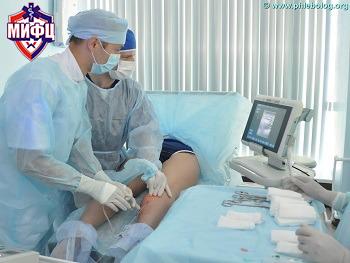 Modern technologies of the phlebological center
If there was a need to get qualified assistance from a phlebologist surgeon, the most effective way would be to contact the appropriate medical institution. Find it very simply "MIFTS" - Medical Innovative Phlebological Center. Moscow.