Ultrasound examination of veins in our center
What is an ultrasound examination (USAS, USDG, ultrasound, duplex or triplex scanning) of the veins of the lower extremities and why should it be done?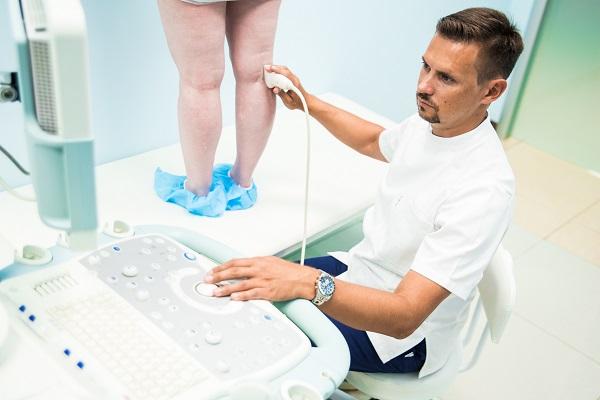 Владимир Вячеславович Раскин перед проведением УЗИ вен
All of the above terms - UZAS, UZDG, ultrasound, duplex or triplex venous scans are essentially the same study if they are prescribed for the examination of legs in varicose veins and the exclusion of vein thrombosis. The ultrasound (ultrasound) diagnostician conducts the examination of your veins with a special sensor, and the result is displayed on the ultrasound screen as gray images, graphs, and colored red-blue streams. Correctly evaluate the results of the study and prescribe therapy (and possibly surgical treatment) can only a doctor of medical profile (surgeon, vascular surgeon or phlebologist). Unfortunately, correctly interpret the results of the study, "read" what the doctor has found uzi-diagnostician can not every surgeon, and on the other hand, the doctor who conducts ultrasound - does not know what information the surgeon expects from the research. Such misunderstanding between specialists occurs in the overwhelming majority of cases, if these doctors work in different medical institutions, where different protocols for writing conclusions are adopted. The same misunderstanding occurs among doctors who use different methods of treating varicose veins (for example, open surgery, laser, radiofrequency obliteration, etc.), because for each technique has its own features of diagnosis.
Such problems can be avoided if the ultrasound is performed by a surgeon-phlebologist who owns both a uzy-diagnosis and is a doctor who, on the basis of his research, diagnoses, prescribes and conducts treatment, and assesses the result of treatment and gives recommendations for prevention in the further varicose veins.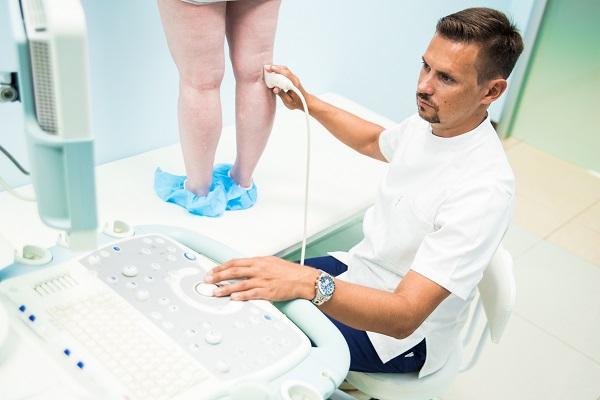 Phlebologist MIFTS Raskin V.V. conducts UZDS of veins
Such doctors work in our Innovation Center "MIFTS". Each specialist of our center has a full range of diagnostics and treatment, including the latest methods of laser surgery for varicose veins. You do not have to stand in lines to different doctors and go to different clinics - one specialist of our center will conduct a full diagnosis of your veins, prescribe and conduct treatment, including laser surgery. In addition to time, you save your money, too. the full cost of receiving a phlebologist with ultrasound diagnosis, diagnosis and treatment is currently only 2900 rub.