Report on the work of the 8 St. Petersburg Venoz Forum, held 4 December 2015.
4 December 2015 passed the traditional 8 St. Petersburg venous forum ("Christmas Meetings"). As always, it was devoted to the most pressing issues of phlebology.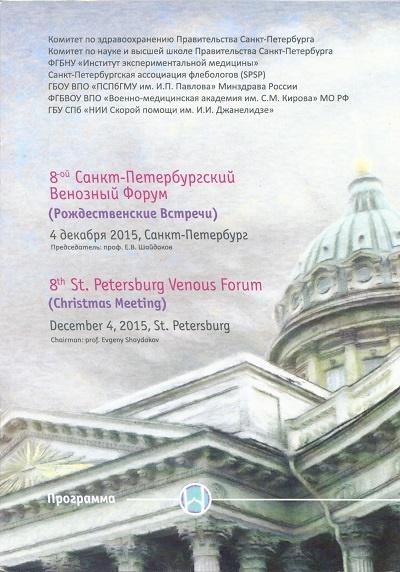 Venue Forum "2015 Christmas Meetings" program
The forum gathered the best representatives in the field of phlebology of our country. Voloshkin Alexey Nikolaevich, head of the department "Medical Innovation Phlebological Center", also took part in this grandiose educational event.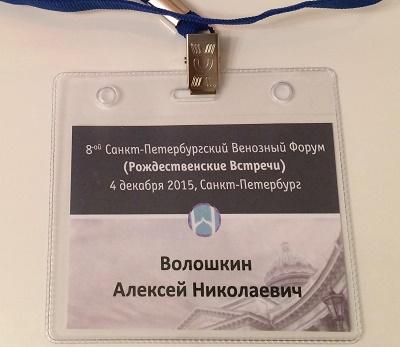 Head of the Department of Phlebology "MIFTS" Aleksey Nikolaevich Voloshkin
Head of the Regional Blood Circulation Laboratory, Head of the Clinic of the Regional Blood Circulation, Head of the Clinic of the Russian Academy of Sciences, Member of the American Venous Forum, President of the European Venus Forum 2015, the topical issues of the development of modern phlebology were discussed constructively at the forum.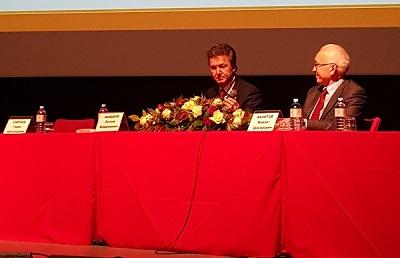 The Presidium of the Venous Forum, headed by the Chairman, Professor E.V. Shaidakov
В рамках Форума со своими докладами выступили ведущие российские и зарубежные ученые в области флебологии. Так, профессор Е.В. Шайдаков прочитал доклад на тему «Венозный тромбоэмболизм. Проблемы и решения».
Professor, Doctor of Medical Sciences from Moscow V.Yu. Bogachev spoke about chronic diseases of veins and problems of comorbidity and concluded that this disease should be considered as a multidisciplinary problem in the context of an already existing or threatened collateral background. No less interesting was the report of Son'kin IN, head of the department of cardiovascular surgery at the Road Clinical Hospital of JSCo Russian Railways in St. Petersburg, on the topic: Modulations of the conservative treatment of deep vein thrombosis of the lower limbs.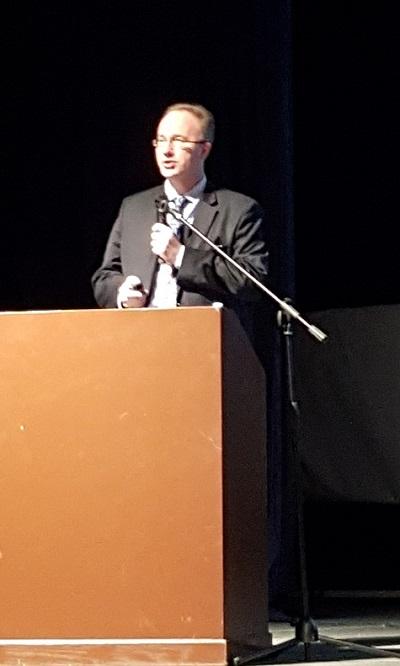 Igor Nikolaevich Sonkin speaks with the report
Special attention should be paid to the speech of professor, doctor of medical sciences Tatiana Vladimirovna Vavilova, devoted to the peculiarities of using direct inhibitors of clotting factors for the treatment of venous thromboembolic complications in cancer patients. This topic is most relevant, since malignant neoplasms are one of the most frequent risk factors for venous thromboembolic complications.
"Christmas meetings" not only allowed us to learn about the latest scientific and practical achievements in the field of phlebology, but also introduced modern samples of medical equipment, popular medicines, the latest compression knitwear. It is also an excellent platform for business and informal communication among leading experts in the field of phlebology.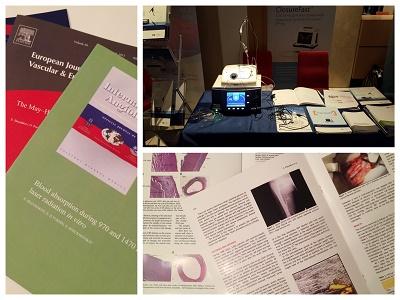 Exhibition of the newest drugs, compression products and medical equipment on the forum
Alexey Nikolaevich and other employees of the "MIFTS" were awarded certificates of participants of the Venue Forum "2015 Christmas Meetings".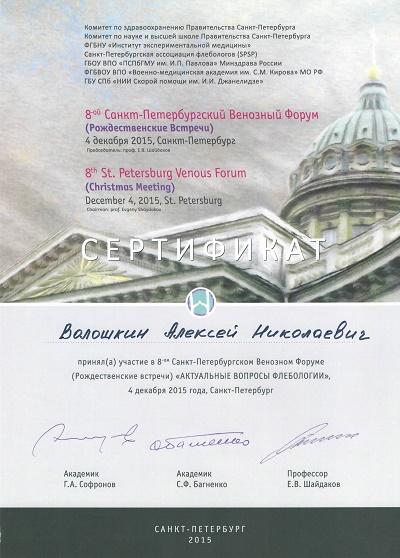 Certificate of the forum member
Separately, I would like to express my gratitude to the organizers of the Forum.
Сохраняя многолетнюю традицию, ждем приглашения на Рождественские встречи в следующем 2016 году.