Master class on EVLK for a vascular surgeon and phlebologist from the city of Ulyanovsk Kirdyasheva Alexandra
21 October 2015 year "Medical Innovative Phlebological Center", the head of the center, phlebologist Semenov Artem Yurievich, a master class on endovasal laser obliteration was given at various forms of varicose veins of the lower extremities.
The master class was conducted for the cardiovascular surgeon, endovascular phlebologist from the city of Ulyanovsk Kirdyashev Alexander Veniaminovich.
During the workshop, 4 demonstrated endovascular laser surgeries in the pools of large saphenous veins with trophic skin changes on both legs, the small saphenous vein basin, and the Thierry atypical perforator basin. All laser interventions were accompanied by a mini varlebectomy according to Varadi. Another patient intraoperatively conducted a session of microfamily Foam-Form sclerotherapy.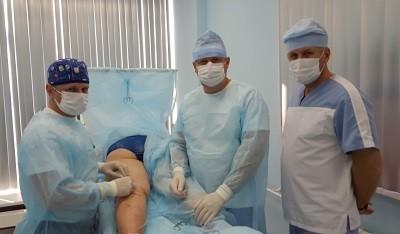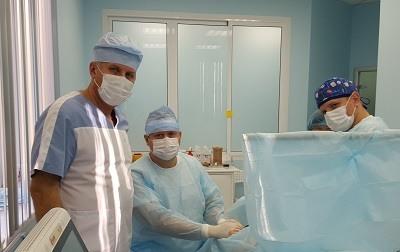 Surgeon-phlebologist Kirdyashev A.V. during demonstration endovascular operations
Alexander Veniaminovich Kirdyashev is a wonderful vascular surgeon who worked all his life in the vascular department of the Regional Ulyanovsk hospital. Currently he works in the city of Ulyanovsk in OOO Medozon. In this clinic, he performs various types of interventions on the veins of the lower extremities, including one of the most modern methods of treating varicose veins - radiofrequency obliteration (RFO). To us in the clinic, Alexander Veniaminovich came specially to see how another endovascular procedure is performed - laser coagulation using Biolitec technology with radial light guides.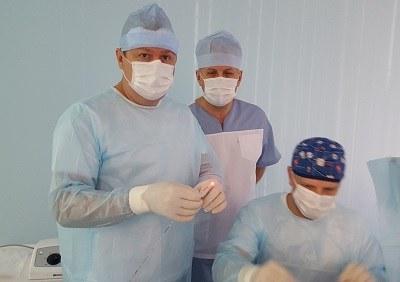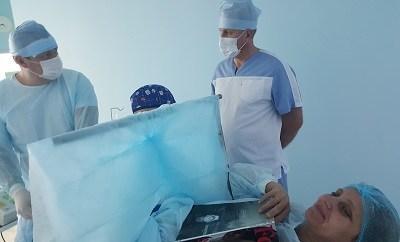 Doctor from Ulyanovsk understands the subtleties of the laser procedure
During the operations, Alexander Veniaminovich was very keenly interested in various aspects of both the procedure itself, and the preoperative preparation of patients, the rehabilitation period. Given that the doctor performs radio frequency obliteration in Ulyanovsk, his questions were very clear and understandable, to which it was a pleasure to respond.
The next stage of the master class was the demonstrative aesthetic interventions for varicose veins - a mini-varibectomy according to Varadi. This procedure is a low-traumatic and sparing method of removing varicose veins through microscopic punctures with special hooks, which Zoltan Varadi invented and introduced into everyday practice.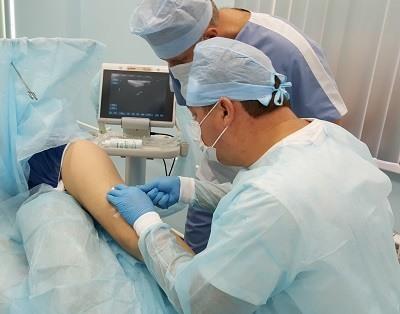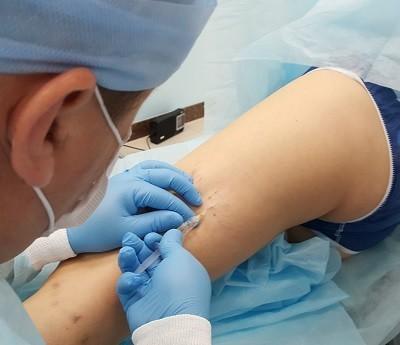 Intraoperative microsclerotherapy of vascular asterisks
Right during laser manipulations (intraoperatively) to a doctor from Ulyanovsk, a technique for performing microsclerotherapy of multiple telangiectasis was demonstrated. Especially often we perform this procedure for patients who come to us from other cities of Russia. This time sclerotherapy was performed by a patient from Orenburg.
We are glad that surgeons-phlebologists from different cities of Russia come to our center in order to learn new methods of treating varicose veins. We gladly share our experience and are ready to continue to conduct such important and necessary master classes.
Yours faithfully,
head "MIFTS", surgeon phlebologist, Ph.D. Semenov Artem Yuryevich.