If you are wondering: "Phlebologist - who and what heals?" - in the modern practical sense doctor phlebologist is narrow specialist, in 90% of cases - this surgeon phlebologist, which deals with the treatment, prevention and diagnosis of venous diseases, selects the necessary program for the successful treatment of the disease, prevents relapses and tracks the entire medical process.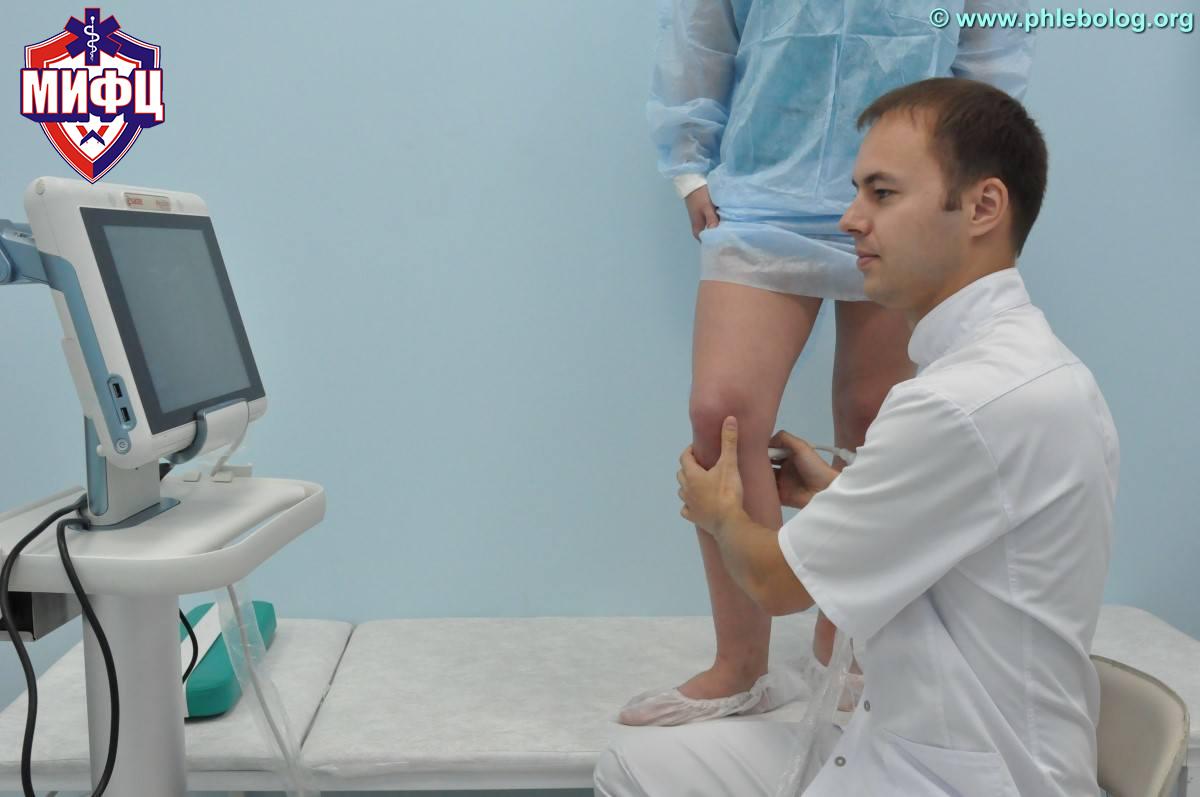 Advises the head of the department of phlebology "MIFTS", surgeon phlebologist Alexei Voloshkin
The goals of a phlebologist:
The goals that are entrusted to the doctors of phlebology surgeons are not only the diagnosis, treatment of varicose veins and telangiectasis (vascular asterisks), but also preventive measures. In recent years, varicose veins have sharply "grown younger" and are associated with an intense life rhythm, stressful situations, loads on the lower limbs, as well as with an increased quality of life, the development of new technologies, including the development of the Internet.
Another important goal of a good doctor is treatment of recurrences of varicose veins, it is not a secret that the operations performed by a vascular surgeon or general surgery physician are significantly different from what is done in modern phlebology now. And only the experience of a professional surgeon will help to return not only health, but also the former beauty to your feet.
How to be guided when searching for a phlebologist in Moscow:
First of all, it should be understood that phlebologist in Moscow should be a classy surgeon who perfectly knows the ultrasound diagnosis of any diseases of the lower extremities. Good phlebologist should produce an ultrasound of the veins of the lower limbs independently and determine which treatment option is right for you. If the surgeon does not perform ultrasound, he most likely does not own the newest endovascular methods for treating varicose veins, which are performed under the supervision of an ultrasound scanner. In this case, you can immediately consult with another specialist. Find the center of phlebology in Moscow is not difficult. But not every Moscow phlebology clinic can boast having European specialists at its staff.
Сосудистый хирург или флеболог regularly studies all kinds of innovations in the field of phlebology, learns diagnostic skills, improves methods of treating diseases of the venous system. For differential diagnosis of veins, the doctor must be understood in traumatology, neurology, rheumatology and orthopedics. If you suffer from a venous disease, you should not hesitate - any best phlebologist our center is waiting for you for consultation and will appoint a course of treatment that meets international requirements. Consultation of phlebologist in Moscow, in the "Medical Innovative Phlebological Center" - is not just phlebologist consultation, this is art. At us each doctor is not only phlebologist, but also the psychologist to whom the patient at once during the first consultation gets respect and confidence. Therefore, all further treatment takes place in quite comfortable psychological conditions.
It is also important to study in detail the reviews about certain phlebologists in Moscow and Russia, typing in the search engine (Google, Yandex) the following phrases: "Phlebologist reviews","Phlebologist in Moscow reviews","Хирург флеболог отзывы". Any positive response to our doctor, we publish on the site. A huge number of reviews leave our patients at various women's forums.
Какие заболевания лечит хирург флеболог:
Any Moscow phlebologist conducts treatment of such diseases of veins:
Varicose veins;
Vascular asterisks or telangiectasis on the legs;
CVI (chronic venous insufficiency);
Trophic ulcer;
Тромбоз глубоких вен;
Thrombophlebitis of superficial veins.
When it is necessary to consult a specialist phlebologist:
Phlebologist is necessary if you are concerned:
Unpleasant sensations and discomfort in the legs (swelling or heaviness);
Convulsions of the lower limbs;
Частые синяки и расширенные вены (узлы) на ногах;
Vascular asterisks;
Pain during walking and redness of the skin;
Trophic dermatitis;
Trophic ulcer;
Redness in the field of varicose veins or knots.
Of course, this is not only the initial signs of a disease that a phlebologist will see in a visual examination. These are neglected manifestations of varicose veins, which not only the phlebologist, but the patient himself can observe for a long time without taking any steps to recovery. Sometimes, even visiting a phlebologist can not always guide the patient in the right direction. Therefore, it is very important to find your surgeon, who can be completely trusted.
Also phlebologist examination is necessary in the presence of such diseases:
Atherosclerosis;
Hypertension;
Heart attack, stroke;
Diabetes;
Любых ортопедических вмешательствах на нижних конечностях (операции на коленном или тазобедренном суставах (протезирование), Hallus valgus, плоскостопие);
Any surgical interventions on the abdominal cavity or in the small pelvis under general anesthesia or spinal anesthesia.
Почему так важно, чтобы перед хирургическим вмешательством или ортопедической операцией на крупных суставах, вас осмотрел флеболог. В Москве направление к флебологу в таких ситуациях уже становится рутинным. Но в других городах пациентов редко направляют перед сложными операциями на консультацию к сосудистому хирургу или флебологу с УЗДС вен нижних конечностей, считая, что это лишнее. В результате получаем в послеоперационном периоде тромбозы и ТЭЛА.
Each the leading phlebologist of our center will advise you before any complicated operation, will carry out diagnostics and give appropriate recommendations, which in turn will help you to avoid such terrible vascular complications of the postoperative period as:
Renal insufficiency
Stroke
Thromboembolism of the pulmonary artery (PE)
Gangrene of lower limbs
For preventive purposes, people of middle age (after 30 years) should visit a phlebologist doctor every year. Women are recommended врач флеболог в Москве during pregnancy planning, directly during pregnancy (if there are risk factors) and after childbirth. An experienced phlebologist in the city of Moscow will enable your legs to perform their main function, and not to combat the symptoms of chronic venous insufficiency.
The cost of phlebologist services in Moscow.
Стоимость лечения у хирурга флеболога с многолетним стажем и большим опытом работы не должна быть низкой, кроме того, иногда встречаются объявления о том, что phlebologist in Moscow for free gives advice. No self-respecting clinic will work for free or at a loss. Any phlebologist services are worth something. And if this is a good center, then it will be equipped with expensive equipment, and all related materials (expendable, dressing) are disposable. This is an important rule of infectious safety, carried out by leading clinics around the world. Therefore, the service provided by флеболог в Москве и цена on it, can not be very low. The average cost, for example, of endovascular thermal vein ablation, which is carried out by surgeon phlebologist in Moscow, in a serious clinic, varies from 50000 to 70000 rubles. If the cost of endovascular intervention is low, then you should think about what the clinic management can save. The cost of the operation is calculated from many factors, but the main ones are: the price of equipment, the price of imported disposable supplies and the experience of leading vascular surgeons of phlebologists of this center.
Until now, patients with long-term venous diseases are asked on the Internet "advise how to find a phlebologist" or "Advise a good phlebologist physician","where to find leading doctors at affordable prices". We will not talk about ourselves, that we the best phlebologists of Moscow. Reviews patients themselves will tell all about our doctors.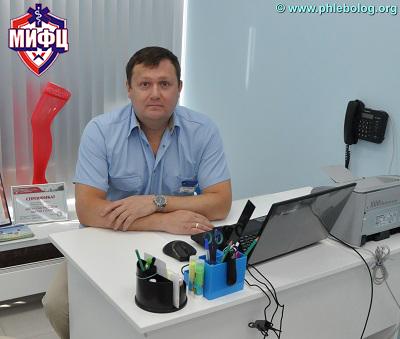 Head of "MIFTS", surgeon-phlebologist, Ph.D. Semenov Artem Yuryevich
Why are surgeons-phlebologists of the "Medical Innovative Phlebological Center" one of the best in Russia?
Our specialists were trained abroad. Regularly participate in various conferences and are engaged in improving their skills;
Successful experience. Our specialists carried out more than seven thousand endovascular procedures on the veins. Such indicators are not available to phlebologists of any clinic in Russia.
Our clinic is equipped with the best and modern equipment;
Thank-you reviews about specialists of our center can be read not only from patients from Russia, but also from Europe and CIS countries.
Of course, all these words, and you can write anything. But it is enough for you to come to the consultation and make sure that there are really first-rate phlebologist-doctors in Russia, corresponding to the European and world standards, and you do not need to go abroad to cure your legs. Read any feedback, and you will understand that it's not for nothing that people turn to us for help.
Поиск лучшего специалиста. Посоветуйте флеболога в Москве, найти врача флеболога, цены в Москве, врачи флебологи отзывы, цены приема врача флеболога, сосудистая хирургия, найти хирурга.
There are currently no answers to this article.